While I'm not generally a huge golf fan, the Ryder Cup certainly gets me excited for the game. With USA and Europe facing off this weekend just outside Chicago, there are huge amounts of marketing dollars wrapped up in the three days, a massive captive and engaged television audience across the world, and a big second screen following too (check out the #rydercup hashtag on Twitter for example).
Gambling on golf has become a huge market particularly since the advent of online betting and almost wall to wall satellite coverage of the USPGA and European Tour, and this weekend is the biggest tournament of them all, so Paddy Power have decided to pull out another one of their awesome marketing stunts.
This morning (Saturday), the Irish gambling company have revealed their plans to write 40 cheeky pro Europe messages in the skies over Medinah, taking cues from tweets sent in by users. The big marketing geek that I am, I'm incredibly excited by this, and the plan has proven hugely successful!

There's been at least two circa 60 second discussions live on Sky Sports over who is behind the messages, clear shots of the planes and sky tweets, and European captain Jose Maria Olazabal has even been asked live on T.V. about it, all in the space of about an hour! This is authentic, earned media at it's finest, and the cost of buying this prime marketing time would be huge.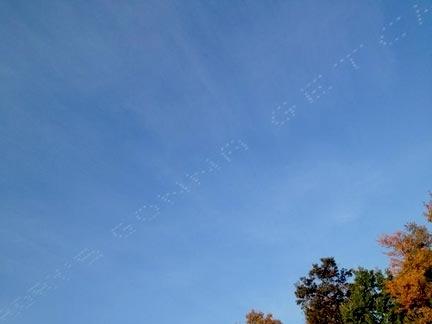 The online buzz has been massive also, and with the messages set to continue across the day, this could prove to
be one of the best ambush stunts ever. Of course, Paddy Power have previous in this type of thing, and I really believe that it's an Irish brand we should be very proud of as marketers.
Now, if only Europe could get themselves going a bit…