Having started a new role last Monday, this week has been a fascinating seven days of learning. Learning about clients, new planning frameworks and above all learning the names of my new colleagues! Isn't that exactly what you want from a new job?
Of all the things I've learned this week, one new word that I picked up stuck with me – receptivity.
It's a bit of a makey uppey planning word, but it's a nice concept nonetheless.
Receptivity, when used in terms of communications, basically refers to how open people are at a certain time to communications, how receptive they are to being marketed to.
It takes cues from Google's theories around 'Zero Moment of Truth' – the perfect moment when your consumer is ready to buy and you're in the right place with the right message (although it's based around a broader time period than that).
It also overlaps nicely with McKinsey's recent thinking into the updated consumer purchase journey and the importance of hitting people at the start of their buying journey, when they're most open and easily swayed.
Receptivity is a brilliant concept. It focuses on understanding your consumer explicitly and tailoring your communications so as not to interrupt them. It's rooted in the idea of pull marketing and is a lovely empathetic way to look at communicating.
In a world when attention is so short term and fragmented, brand loyalty is a misnomer and and choice is abundant, hitting people at the exact moment they're most open is a very salient strategy.
But there's another side to this coin too.
While hitting people when they want to be spoken to is fantastic, we mustn't forget the dirty secret of marketing and advertising.
We also need to interrupt people.
Sure, it's not nice to say, and the need to interrupt has diminished as we've become smarter over the last decade.
But if we want to keep our brand top of mind, to drive mental availability, then we need to be hitting light buyers who may not even be in market. Big brands need to be speaking to everyone on an ongoing basis. To do that, we often need to look past moments of receptivity and instead utilise moments of interruption.
A recent study into consumer's favourite channels in which to be marketed to raised a few eyebrows around the industry. Indeed, I shared it on social with my own eyebrows raised, and it cause quite a reaction. According to the study of 24,000 16-49 year olds in a variety of countries, outdoor, cinema and magazines were their favourite formats.
Incredible right? I thought so too.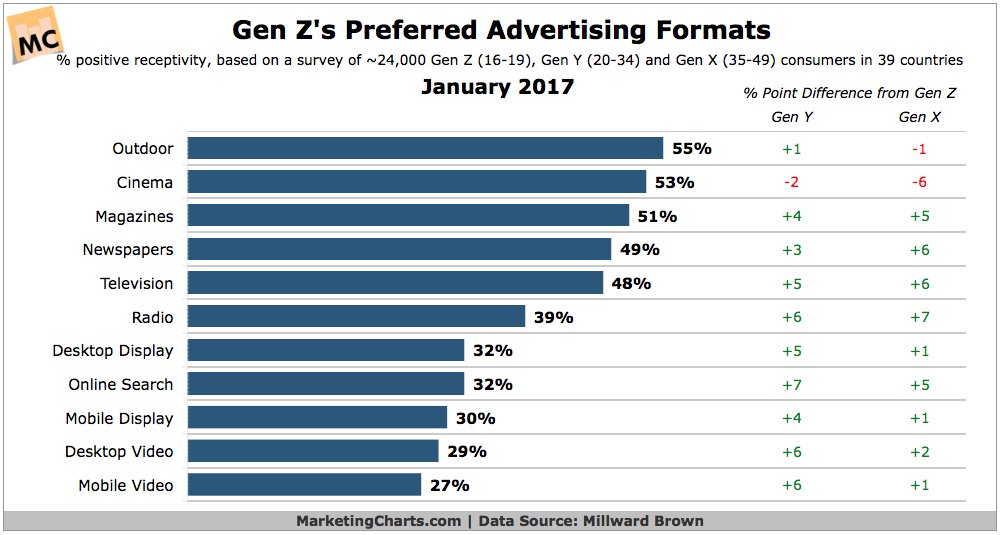 That was until my ex boss Paul pointed out something that completely changed the way I saw the graph (as is his wont!).
The top three preferred channels are the most ambient, creative or unobtrusive channels. After being asked 'what formats do you prefer to receive brand messages?' of course people were going to offer up those that annoyed them the least.
Looking at this in isolation, a kneejerk brand manager could take the opinion that he should be pumping more budget into magazines, cinema and outdoor.
But the question asked biases the response.
People can't always verbalise the moment at which they're most receptive, and they certainly weren't going to ask for more TV, radio, digital display or mobile video ads annoying them online.
What's my main point here?
Basically, what people prefer and what's effective isn't always overlapping.
That doesn't mean we hit people with more retargeted pop-up ads or non-skippable pre-roll. (No surprise that the latter was found to be the least positive way for brands to market in the same study.) But it does mean we need to balance out our thinking when it comes to channel choice.
Secondly, moments of real receptivity are rare and fleeting. It's our job as marketers to find those moments, but at times we need to be interruptive and hit people when they're enjoying something else. That's part of the job description.
It's important that we find the middle ground. Advertising has to intrude, but it also has to know its place.
Data taken from Millward Brown Ad Reaction study.